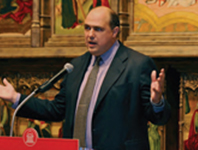 About Us
Message from the Director

Dear Members and Supporters of the Meadows Museum,
It has been so gratifying to look back at all the artistic beauty and unforgettable events we experienced during our special Golden Anniversary year. We are so thankful to Stacey McCord for chairing the celebration committee, as well as to all our Advisory Council members, donors, members, and supporters for everything they have done to sustain and strengthen the Meadows. The museum has never had so many visitors coming from all over the world! There were lines of people waiting to see the Alba exhibition before it closed, and our docent corps did an extraordinary job leading the unparalleled number of tours that were given throughout the year. We are so thankful to all these, and other volunteers, who gave their time and financial support to the Meadows. We also welcome all the new members who have joined the museum and look forward to seeing you in the galleries this year and beyond.
As you may recall, in the fall of 2014, as we were preparing to unveil our 50th, we announced the acquisition of the handsome late Goya, Portrait of Mariano Goya, the Artist's Grandson (1827). Now, as a bookend to this splendid year of celebration, we are thrilled to announce our latest addition to the collection, Dalí's L'homme poisson (1930). Not only is this early surrealist work the first painting by Dalí to enter our collection, it is also the first painting by this celebrated artist to be accessioned into the permanent collection of a Texas museum. Other new acquisitions include works by Jerry Bywaters, which will further broaden SMU's outstanding collection of his work and archival material. We also celebrate a donation of four works by the esteemed longtime Professor of Art and Altshuler Distinguished Teaching Professor Mary Vernon.
Exhibitions on both the Salvador Dalí painting and Texas art will be featured in the galleries this spring and lectures and events surrounding them will be insightful and fun to experience. As we look to the next decades to come, I welcome you to participate in everything the Meadows Museum has to offer and experience arts and the culture of Spain at its very finest.
I look forward to seeing you in your museum.
Mark A. Roglán, Ph.D.
The Linda P. and William A. Custard Director of the Meadows Museum and Centennial Chair in the Meadows School of the Arts