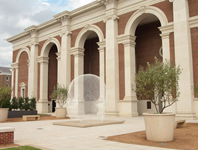 About Us
Moss/Chumley Award
Note: Deadline for the 2015 Moss/Chumley award has been extended through November 20, 2015.
---
The Moss/Chumley Award is given in memory of Frank Moss and Jim Chumley, two Dallas art dealers who made outstanding contributions to the visual arts in North Texas during the 1980s. The Moss/Chumley Memorial Fund is used to recognize an outstanding North Texas artist.
The award, which carries a cash prize of $2,500, is given annually to an outstanding North Texas artist who has exhibited professionally for at least ten years and who has a proven track record as an active community advocate for the visual arts. The competition is accepting entries in the genres of drawing, painting, sculpture, assemblage, construction, video, photography, performance, and installation. To be eligible, an artist must reside in one of the following North Texas counties: Collin, Dallas, Denton, Ellis, Hunt, Johnson, Kaufman, Parker, Rockwall, Tarrant or Wise.
We're now accepting entries for the 2015 Moss/Chumley Award! Please complete the application form and return it with your entry by November 20, 2015. The award will be presented at the Meadows Museum Holiday Soiree on December 9, 2015.
Any questions can be addressed by Curatorial Assistant Shelley DeMaria (sdemaria@smu.edu), or at 214-768-4246.
Moss/Chumley Award Recipients:
2014 Darryl Lauster
2013 Christopher Blay (visit the link for photos of Mr. Blay's work)
2012 Stephen Lapthisophon (PDF)
2011 Frances Bagley
2010 Isabelle du Toit
2009 Juliette McCullough
2008 David McCullough
2007 Noah Simblist
2006 Catherine Chauvin
2005 Ludwig Schwarz
2004 Janet Tyson
2003 David Dreyer
2001-2002 Award Not Given (Meadows Museum moves to its new facility)
2000 Marie Van Arsdale
1999 Sherry Owens
1999 Honorary recognition for outstanding contributions to the community: · Kaleta Doolin · David Hickman · Tracy Hicks
1998 Mary Vernon
1997 Marilyn Waligore
1996 Susan Kae Grant
1995 Bob Nunn
Note: Some award dates have recently changed due to updates in the University's calendar system.