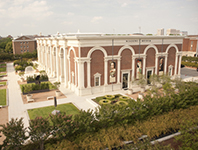 About Us
Plaza & Sculpture Garden
The Meadows Museum dedicated its plaza and sculpture garden in October 2009. The museum entrance includes fountains and access stairs leading to the sculpture plaza from Bishop Blvd. The plaza features a permanent installation of monumental modern and contemporary sculpture by major artists, including La Joie de Vivre (1927) by Jacques Lipchitz, Three-piece Reclining Figure No. 1 (1961-2) by Henry Moore, Spirit's Flight(1979) by Isamu Noguchi, Geometric Mouse II (1969-70) by Claes Oldenburg and Figure with Raised Arms (1956-57) by Fritz Wotruba.

The centerpiece of the plaza is Sho (2007), a 13-foot-tall sculpture by contemporary Spanish artist Jaume Plensa. Acquired by the museum in 2009, the work represents a female head formed by white-painted stainless steel openwork mesh. The sculpture is a portrait of a young Chinese girl named Sho, whom the artist met in his native Barcelona, where his studio is located.

The plaza's innovative design features green spaces, gravel paths, benches and four strategically located overlooks which provide shady, peaceful areas to view the sculptures. One of the overlooks provides a dramatic view of Santiago Calatrava's moving sculpture Wave (2002), permanently installed below the plaza at street level.

The plaza and the Plensa sculpture acquisition were made possible through the support of patrons including Nancy Hamon and the late Jake Hamon, The Eugene McDermott Foundation, The Meadows Foundation, Richard and Gwen Irwin, The Pollock Foundation, the family of Mr. and Mrs. Richard R. Pollock and the family of Lawrence S. Pollock, III. The plaza was designed by Dallas-based Swiss architect Thomas Krähenbühl of TKTR architects.

Follow the link for more information about the new plaza and the museum's sculpture collection.
Thomas Krähenbühl (Architect)
Born in Langnau, Switzerland, 1954 Thomas Krähenbühl received his first professional degree in 1980 at the Swiss Polytechnic Institute (ETH) in Zurich and a Masters of Architecture degree in 1982 at Rensselaer Polytechnic in Troy, New York. He worked in New York City, Paris, Lausanne and Basel (both Switzerland). Before starting his own firm in Basel in 1987. He moved to Dallas in 1997 and collaborated with several noted architects, before starting his partnership with Truett Roberts. He is a registered architect in Texas and Switzerland, and he is LEED accredited with the US Green Building Council. He is a member of the AIA and he is on the board of the Dallas Architecture Forum. He speaks German, English, French and Italian.