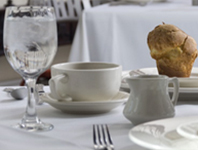 Visit Us
Dining Near the Museum
Dining Options During Your Visit
The following is a list of nearby dining options for Meadows Museum visitors.
On campus:
Campus dining options are subject to closure depending on SMU's educational calendar, please check the SMU dining page to confirm which locations will be open during your visit.
The Hughes-Trigg Student Center, about a 10-minute walk from the museum north on Bishop Blvd., offers a variety of quick meals, including:
Café 100, featuring Starbucks Coffee
Chick-fil-A
Campisi's (pizza & pasta)
The Market (convenience store)
Subway
Sushic (sushi)
The Wedge (salads)
Off campus:
Park Cities Plaza, NW corner of Mockingbird Ln. @ I-75/N. Central Expwy.:
La Madeleine (French bakery/café)
Roly Poly (sandwich wraps)
Starbucks
Lovers Eggroll
Mockingbird Station, NE corner of Mockingbird Ln. @ I-75/N. Central Expwy.:
Buda Juice
Café Express
Old Chicago Pizza & Taproom
The People's Last Stand (bistro)
Reikyu (sushi)
Rockfish Seafood Grill
Smashburger
Starbucks
Trinity Hall (Irish pub)
Twin Peaks
Urban Taco
Along Hillcrest Avenue:
Chick-fil-A
Digg's Taco Shop
Goff's Burgers
Jimmy John's (sandwiches)
Olivella (pizza, on McFarlin)
Sushi Kyoto
The Front Room, in the Hotel Lumen
Snider Plaza, SW corner of Hillcrest Ave. and Lovers Ln.:
Amore Italian Restaurant
Bandito's Tex-Mex Cantina
Bubba's (fried chicken)
Burger House
Cisco Grill (southwestern)
Crème de la Cookie
Dive Coastal Cuisine
East Hampton Sandwich Co.
Food From Galilee (Mediterranean)
Half Shells Oyster Bar & Grill
JD's Chippery
Kuby's Sausage House
Mustang Donuts
Peggy Sue BBQ
Penne Pomodoro Italian Bistro
Short Stop Food to Go
Starbucks
Subway
Yumilicious Frozen Yoghurt
Zoe's Kitchen
Central 214:
Knife Steakhouse, in the Hotel Palomar, 5300 Mockingbird Ln.