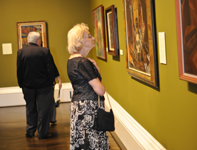 Exhibitions
Current Exhibitions
This spring, the Meadows Museum will honor one of SMU's own with an exhibition of works by artist John Alexander. Featuring a focused selection of works, including both paintings and drawings, the show will consider the past decade of the artist's career, with an eye to the cast of characters—both humans and animals alike—that Alexander employs with frequency. Seemingly relatable at first glance, the compositions become increasingly complex as multiple meanings, both humorous and dark, emerge with prolonged examination.
This fall, the Meadows Museum, along with the Bywaters Special Collections at the Hamon Arts Library, will celebrate a generous gift containing over two-dozen works by the artist H. O. Robertson. Given by members of the artist's family, the works include ten paintings and four cliché verre plates to the Meadows Museum's University Art Collection, and nine drawings and ten lithographs to the Bywaters Special Collections. A selection of these works will be on view at the Meadows Museum from November 9, 2014 to March 31, 2015.
The Meadows hosts the Louvre's Portrait of Fernando Guillemardet (1798-99) by Francisco de Goya y Lucientes (1746-1828) in dialogue with its own Portrait of Richard Worsam Meade (1815) by Vicente López y Portaña (1772-1850). Goya's masterful portrait of Guillemardet, the French ambassador to Spain from 1798 to 1800, shares a number of formal characteristics with the Meadows's painting and, like Goya, López served as court painter to Charles IV and Ferdinand VII in the late eighteenth and early nineteenth centuries.