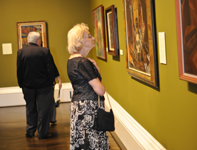 Exhibitions
Current Exhibitions
Empresario Juan Abelló and his wife, Anna Gamazo, have spent thirty years building one of the top private collections in Spain, a gathering of the finest and rarest of masterpieces by Spanish artists and international modern masters spanning five centuries. This exhibition presents approximately 100 highlights from their collection, including works by Francis Bacon, Georges Braque, Canaletto, Marc Chagall, Salvador Dalí, Edgar Degas, Francisco Goya, El Greco, Henri Matisse, Joan Miró, Amedeo Modigliani, Pablo Picasso and Jusepe de Ribera. This marks the first time that this wholly private collection is the sole focus of an exhibition, and the Meadows Museum is its only American venue.
On April 3, 2015, fifty years will have passed since Algur Meadows first realized his dream of creating a "small Prado in Texas." How has the Museum developed from 1965 to 2015? How did it withstand early scandals involving crooked art dealers and forgeries to become one of the leading institutions of Spanish art outside of Spain? On view from April 18 until August 2, The Meadows Collects: 50 Years of Spanish Art in Texas, will answer these questions through a display highlighting defining moments in the Museum's history.
This spring, the Meadows Museum will honor one of SMU's own with an exhibition of works by artist John Alexander. Featuring a focused selection of works, including both paintings and drawings, the show will consider the past decade of the artist's career, with an eye to the cast of characters—both humans and animals alike—that Alexander employs with frequency. Seemingly relatable at first glance, the compositions become increasingly complex as multiple meanings, both humorous and dark, emerge with prolonged examination.