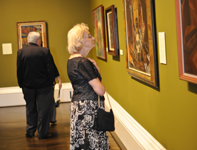 Exhibitions
Current Exhibitions
Empresario Juan Abelló and his wife, Anna Gamazo, have spent thirty years building one of the top private collections in Spain, a gathering of the finest and rarest of masterpieces by Spanish artists and international modern masters spanning five centuries. This exhibition presents approximately 100 highlights from their collection, including works by Francis Bacon, Georges Braque, Canaletto, Marc Chagall, Salvador Dalí, Edgar Degas, Francisco Goya, El Greco, Henri Matisse, Joan Miró, Amedeo Modigliani, Pablo Picasso and Jusepe de Ribera. This marks the first time that this wholly private collection is the sole focus of an exhibition, and the Meadows Museum is its only American venue.
This spring, the Meadows Museum will honor one of SMU's own with an exhibition of works by artist John Alexander. Featuring a focused selection of works, including both paintings and drawings, the show will consider the past decade of the artist's career, with an eye to the cast of characters—both humans and animals alike—that Alexander employs with frequency. Seemingly relatable at first glance, the compositions become increasingly complex as multiple meanings, both humorous and dark, emerge with prolonged examination.
The Meadows hosts the Louvre's Portrait of Fernando Guillemardet (1798-99) by Francisco de Goya y Lucientes (1746-1828) in dialogue with its own Portrait of Richard Worsam Meade (1815) by Vicente López y Portaña (1772-1850). Goya's masterful portrait of Guillemardet, the French ambassador to Spain from 1798 to 1800, shares a number of formal characteristics with the Meadows's painting and, like Goya, López served as court painter to Charles IV and Ferdinand VII in the late eighteenth and early nineteenth centuries.