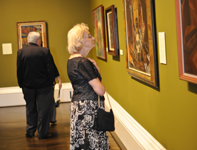 Exhibitions
Current Exhibitions
The Meadows Museum hosts the Kunsthistorisches' Portrait of the Infanta Margarita Teresa in a Blue Dress (1659) by Diego Rodríguez de Silva y Velázquez (1599-1660). One of the artist's final portraits and executed one year before his death, this work depicts the Infanta Margarita, daughter of Philip IV and Mariana of Austria, who is also prominently featured in Velázquez's masterpiece Las Meninas (1656), painted just three years earlier. As the royal couple's first child, the Infanta was promised to her uncle and cousin, Emperor Leopold I, whom she married in Vienna, testifying to the intimate dynastic connection between the Spanish and Austrian branches of the Habsburg Empire.
Empresario Juan Abelló and his wife, Anna Gamazo, have spent thirty years building one of the top private collections in Spain, a gathering of the finest and rarest of masterpieces by Spanish artists and international modern masters spanning five centuries. This exhibition presents approximately 100 highlights from their collection, including works by Francis Bacon, Georges Braque, Canaletto, Salvador Dalí, Edgar Degas, Francisco Goya, El Greco, Henri Matisse, Joan Miró, Amedeo Modigliani, Pablo Picasso and Jusepe de Ribera. This marks the first time that this wholly private collection is the sole focus of an exhibition, and the Meadows Museum is its only American venue.
On April 3, 2015, fifty years will have passed since Algur Meadows first realized his dream of creating a "small Prado in Texas." How has the Museum developed from 1965 to 2015? How did it withstand early scandals involving crooked art dealers and forgeries to become one of the leading institutions of Spanish art outside of Spain? On view from April 18 until August 2, The Meadows Collects: 50 Years of Spanish Art in Texas, will answer these questions through a display highlighting defining moments in the Museum's history.