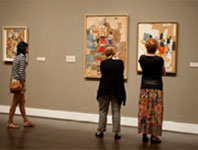 Exhibitions
Upcoming Exhibitions
Between Paris and Texas: Marie Cronin, Portraitist of the Belle Époque
February 14-June 5, 2016
Between Paris and Texas: Marie Cronin, Portraitist of the Belle Époque is the first monographic exhibition of Cronin's (1867-1951) art and will feature a focused selection of her paintings, including works shown in the salons of Paris, as well as official portraits of Texas statesmen that hang at the Texas State Capitol, such as Alfonso Steele (1817-1911), the last survivor of the Battle of San Jacinto. A Texas-raised artist, Cronin studied with Claudio Castelucho (Spanish, 1870-1927) in Paris during the first decade of the twentieth century. Following her return from Europe, Cronin would continue her artistic career back in Texas while also carrying out the exigencies of a family in the business of expanding railroad operations across the state.
Process and Innovation: Carlotta Corpron and Janet Turner
February 14-June 5, 2016
This exhibition will present the work of two pioneering artists working and teaching in Texas in the 1940s and 1950s, Carlotta Corpron (1901-1988) and Janet Turner (1914-1988). Corpron, working in photography, and Turner, working in painting and printmaking, both taught art education at Texas universities and came into their own maturity of style during the middle of the twentieth century. Process and Innovation: Carlotta Corpron and Janet Turner explores the work of both artists made during this period of consummate experimentation. This exhibition draws entirely from holdings within the Dallas area, including Bywaters Special Collections of SMU, which holds an impressive collection of art by both Turner and Corpron.