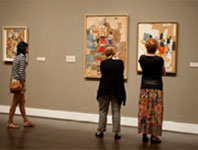 Exhibitions
Upcoming Exhibitions
Modern Spanish Art from the Asociación Colección Arte Contemporáneo is the first exhibition in America to present a comprehensive survey of Modern Art in Spain from the Belle Époque through the Kennedy years. The rich and diverse art created in Spain during this period is largely unknown in the U.S. due to the turmoil that took place in Spain at this time. Juxtaposing the modern art collection of the Meadows Museum with works from the Asociación Colección Arte Contemporáneo (ACAC) in the Museo Patio Herreriano of Valladolid, this exhibition brings together more than 90 paintings, sculptures and works on paper to demonstrate the most important aspects of Spanish modern art and shed light on the global connection between Spanish art and other international modern art movements.
Rarely-seen etchings by Juan de Valdés Leal (1622-1690) and other Spanish Baroque masters from the lavishly illustrated festival book Fiestas de la Santa Iglesia Metropolitana y Patriarcal de Sevilla al nuevo culto del Señor Rey San Fernando el tercero de Castilla y de León (Seville: Viuda de Nicolás Rodríguez, 1671) provide a fascinating look at the extravagant 5-day festival in 1671 Seville that was held for the cult of King Ferdinand III of Castile, or San Fernando (r. 1217-1252).
Zurbarán Masterpieces on Loan from Auckland Castle
September 17, 2017 – January 7, 2018
The Meadows Museum at SMU announces a touring exhibition of life-size paintings by the Spanish Golden Age master Francisco de Zurbarán (1598–1664), on loan from Auckland Castle in England. Proposed by the Meadows—in collaboration with The Frick Collection, the Kimbell Art Museum, and the Auckland Castle Trust—the project includes an analysis of the paintings at the Kimbell's noted conservation lab, as well as a scholarly publication about the unique history of this series, the most significant public collection of the artist's work outside of Spain. The exhibition marks the first time these works will travel to the United States, and will premiere at the Meadows in September 2017, followed by a presentation at The Frick Collection beginning in January 2018. Visit the following link for the full news release.