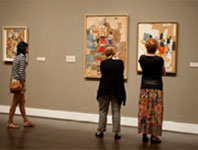 Exhibitions
Upcoming Exhibitions
On April 3, 2015, fifty years will have passed since Algur Meadows first realized his dream of creating a "small Prado in Texas." How has the Museum developed from 1965 to 2015? How did it withstand early scandals involving crooked art dealers and forgeries to become one of the leading institutions of Spanish art outside of Spain? On view from April 18 until August 2, The Meadows Collects: 50 Years of Spanish Art in Texas, will answer these questions through a display highlighting defining moments in the Museum's history.
The Meadows Museum hosts the Kunsthistorisches' Portrait of the Infanta Margarita Teresa in a Blue Dress (1659) by Diego Rodríguez de Silva y Velázquez (1599-1660). One of the artist's final portraits and executed one year before his death, this work depicts the Infanta Margarita, daughter of Philip IV and Mariana of Austria, who is also prominently featured in Velázquez's masterpiece Las Meninas (1656), painted just three years earlier. As the royal couple's first child, the Infanta was promised to her uncle and cousin, Emperor Leopold I, whom she married in Vienna, testifying to the intimate dynastic connection between the Spanish and Austrian branches of the Habsburg Empire.
For more than 500 years, the Alba family has formed part of the most important aristocratic lineages in Europe. In celebration of the Meadows Museum's 50th anniversary, they are graciously allowing more than 130 works from their private collection to leave Spain for the very first time. Treasures from the House of Alba: 500 Years of Art and Collecting presents paintings and decorative arts drawn from three of the family's most spectacular palaces in Madrid, Seville, and Salamanca, including works by Titian, Goya, Rubens, Rembrandt, Ingres, Renoir, Chagall, and many more.