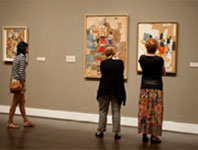 Exhibitions
Upcoming Exhibitions
Coinciding with the publication of the first catalogue raisonné of drawings by Jusepe de Ribera (1591-1652), the Meadows Museum, in collaboration with the Museo del Prado, presents an exhibition of about fifty drawings (out of a total of some 160 sheets attributable to the artist), ten paintings, and a small selection of prints. The exhibition will highlight the variety of Ribera's drawings, the technical skill in his use of pen and ink and chalk, and the extraordinary originality of his subject matter, which includes anatomical figure studies, lively street scenes, capricious subjects, and scenes of martyrdom and torture.
Picasso's Dream and Lie of Franco: The Spanish Civil War in Print
April 2 – July 2, 2017
June of 2017 will mark 80 years since the production of Guernica by Pablo Picasso (1881-1973), made in response to the horrific Spanish Civil War (1936-1939). This exhibition commemorates the anniversary of Picasso's great painting by showcasing a pair of prints in the Meadows collection that was transformed by Guernica: Picasso's Dream and Lie of Franco. The production of these prints was interrupted by the bombing of the town of Guernica on April 26, 1937, the event that inspired his painting; Picasso returned to the prints only after his painting was complete. The Dream and Lie of Franco will be displayed alongside Spanish Civil War posters from the Meadows collection that offer a thematic and visual-cultural context for Picasso's graphic works.
Picasso/Rivera: Still Life and the Precedence of Form
August 6 – November 5, 2017
A focused exhibition, Picasso/Rivera: Still Life and the Precedence of Form, explores the story of spirited rivalry between Picasso and Rivera through the lens of selected works, notably Picasso's Still Life in a Landscape (1915) from the Meadows Museum's collection, and Rivera's Still Life with Gray Bowl (Lyndon Baines Johnson Presidential Library, Austin), painted in the same year. Together with a key work by each artist generously loaned from the Columbus Museum of Art, this group of paintings will outline the visual dialogue taking place in 1915 between these two giants of modern art
The Meadows Museum at SMU announces a touring exhibition of life-size paintings by the Spanish Golden Age master Francisco de Zurbarán (1598–1664), on loan from Auckland Castle in England. Proposed by the Meadows—in collaboration with The Frick Collection, the Kimbell Art Museum, and the Auckland Castle Trust—the project includes an analysis of the paintings at the Kimbell's noted conservation lab, as well as a scholarly publication about the unique history of this series, the most significant public collection of the artist's work outside of Spain. The exhibition marks the first time these works will travel to the United States, and will premiere at the Meadows in September 2017, followed by a presentation at The Frick Collection beginning in January 2018. Visit the following link for the full news release.