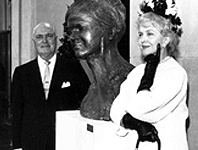 About Us
Museum History
During business trips to Spain in the 1950s, Texas philanthropist and oil financier Algur H. Meadows spent many hours at the Prado Museum in Madrid. The Prado's spectacular collection of Spanish masterpieces inspired Meadows to begin his own collection of Spanish art. In 1962, through The Meadows Foundation, he gave SMU funds for the construction and endowment of a museum to house his Spanish collection. The Meadows Museum opened in 1965 as part of a new arts center at SMU. In the years that followed, Algur Meadows provided the impetus and funds for an aggressive but highly selective acquisitions program through which an extraordinary collection was developed in a remarkably short period of time. Since his death in 1978, The Meadows Foundation has provided ongoing support for continued development of the museum's permanent collection. The Foundation gave a gift of $18.5 million in 1998 for construction of a new museum building on campus to showcase the collection and provide more space for special exhibitions and educational programs; the new building opened in March 2001. In 2006, the Foundation gave $33 million to the Meadows School of the Arts, the largest grant ever made by the Foundation and the largest ever received by SMU at the time, which included $25 million for the museum for acquisitions, exhibitions, an educational curator position, an expanded educational program, and special initiatives of the museum director.
The Meadows Museum at Southern Methodist University now houses one of the largest and most comprehensive collections of Spanish art outside of Spain. With works dating from the 10th to the 21st century, the internationally renowned collection presents a broad spectrum of art covering a thousand years of Spanish heritage.
The Meadows Museum collection includes masterpieces by some of the world's greatest painters: El Greco, Velázquez, Ribera, Murillo, Goya, Miró and Picasso. Highlights of the collection include Renaissance altarpieces, monumental Baroque canvases, exquisite Rococo oil sketches, polychrome wood sculptures, Impressionist landscapes, modernist abstractions, a comprehensive collection of the graphic works of Goya, and a select group of sculptures by major 20th-century masters, including Auguste Rodin, Jacques Lipchitz, Henry Moore, Claes Oldenburg, David Smith and Fritz Wotruba. At the base of the plaza is a 40-by-90 foot moving sculpture, Wave, designed by Santiago Calatrava.
The museum is a unique resource for local schools, colleges, the Dallas-Fort Worth community and visitors from around the world. With an active program of tours, educational outreach, weekend family days and a summer art program for young people, the Meadows Museum plays an important role as an educational and cultural center in North Texas. Throughout the year, the Meadows Museum presents an exciting series of special exhibitions, public lectures, symposia and gallery talks featuring university professors, visiting scholars and artists. The museum also hosts concerts by local and international musicians.
About the Building
The Meadows Museum is housed in a two-story collegiate Georgian red brick building of approximately 66,000 square feet that was designed by Chicago-based architects Hammond Beeby Rupert Ainge and opened in 2001. The first floor includes a museum shop, an education studio, a classroom, an auditorium, and several public areas suitable for receptions and other events. Underground parking provides all-weather access for museum visitors.
HBRA Architects
A Chicago-based firm for more than 35 years, Hammond Beeby Rupert Ainge have, in their words, "pursued a course in architecture that is based on the principle that context is a major force in the determination of form in building." Firm principals Thomas Beeby, Dennis Rupert, and Gary Ainge have a strong belief that "collaborative efforts between client and architect result in the finest buildings." Today the tradition begun by Mr. Hammond continues under the leadership of Aric Lasher, who joined the firm in 1985. In an attempt to bring the sophistication of a large firm to a more personal manner of practice, the firm designs buildings for a range of purposes and scales; these include museums, performing arts centers, libraries, academic buildings, religious buildings, residences, office buildings, urban and campus master plans, and renovations of historic buildings. They are recognized for designing projects that require sensitivity to existing contexts, as well as an ability to translate design challenges at any scale into meaningful and enduring structures that are responsive to client needs and specific site conditions.