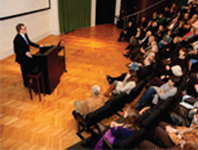 About Us
Multimedia
Videos
Welcome to our multimedia page! Here you will find:
Click on the thumbnails below to open each video. To see the video in full screen mode, click on the bottom right icon in each window.
Inclusive Programs
Read a transcript of the following video
Media Coverage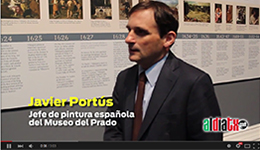 Above left: Sep 14, 2012 - Javier Portús, jefe de pintura española en el Museo del Prado, explica la importancia de los primeros años de Velázquez en la corte del Rey Felipe IV (in Spanish)
Above left: Jan 25, 2015 -WFAA News story about teens recreating works of art from Meadows Museum collection into tacticle experiences for visually impaired guests.
Above middle: June 20, 2014 - WFAA News story about artist John Bramblitt, who offers workshops at Meadows Museum.
Above right: Nov 8, 2013 - "Major Goya painting acquired by Meadows Museum," YouTube.com, courtesy of WFAA-TV.
Above left: Mar 22, 2013 - Art This Week: 173-Meadows Museum-Impressions of Europe: Nineteenth-Century Vistas by Martín Rico with Javier Barón Thaidigsmann.
Above middle: Dec 21, 2012 - Signing of contract between el Museo del Prado and the Meadows Museum at el Museo del Prado in Spain
Above right: May 1, 2012 - Modern Mexican Painting Members' Opening

Above left: Oct 30, 2012 - Españoles en el mundo - Dallas - Teresa
Above middle: Dec 11, 2009 - Mark Roglán on Calatrava
Above right: SMU and Calatrava by Wesleigh Ogle
Live Webcasts
Watch live broadcasts of certain symposia, lectures, and more right here. Please check the calendar for our next live broadcast.