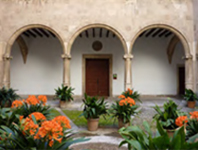 Support Us
Member Travel
PAST TRAVEL

Spanish Splendors of the UK!
May 29-June 6, 2016
Museum members journeyed to the United Kingdom this past spring, experiencing the best of Spanish art in both London and Edinburgh, as well as visiting Auckland Castle, County Durham, to view its series of Zurbarán paintings.
Our trips combine curatorial expertise, historical perspective, and behind-the-scenes viewing arrangements.
Members at the Ribera Patron level and up may join future trips such as this one; contact membership manager David Leggett at either dleggett@smu.edu or 214.768.2765 to upgrade your membership today.
---
PAST TRAVEL

Explore the House of Alba with the Meadows Museum!
March 1-11, 2015
In March, our members joined Dr. Mark Roglán for a once-in-a-lifetime opportunity to celebrate the 530 year-old House of Alba's masterpieces and decorative arts before they arrive in Dallas for the opening of Treasures from the House of Alba: 500 Years of Art and Collecting.
Tour highlights included visits to the Duchess of Alba's three largest palaces: The Liria Palace in Madrid, The Palace of Las Dueñas in Seville and the Palace of Monterrey in Salamanca. The trip included visits to villas, museums and cultural attractions connected to this most illustrious family. Meadows Museum Members at the Ribera Patron level and above were invited to join this travel program that took place March 1-11.

---
PAST TRAVEL

Following in El Greco's Footsteps: Toldeo to Madrid
April 21-30, 2014
In April, our Meadows Museum members commemorated the 4th centenary of El Greco's death in 1614 by retracing the artist's footsteps throughout central Spain.
The ten-day, exclusive trip led by museum director, Dr. Mark Roglán, involved visits to public and private art spaces throughout Toledo, Cuenca, El Escorial and Madrid. In addition to viewing over 300 works by El Greco, our members met with museum professionals, distinguished society members and dined in some of the finest restaurants. The El Greco exhibition in Toledo, with over one million visitors broke the attendance record for all Spanish exhibitions.