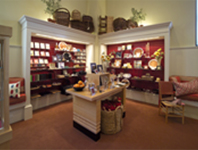 Visit Us
Museum Shop
The Meadows Museum Shop is your destination for unique gifts, unusual jewelry and fabulous books. A great place to browse, you will see a wide range of merchandise and an incredible selection of books that complement the Museum's permanent collection and expand your knowledge of our visiting exhibitions. Our children's section is rich with exciting toys, art sets and hard-to-find books. Meadows Museum members receive a 10% discount on all purchases and from time to time also get special offers and opportunities.
These Meadows Museum exhibition catalogues are available in the Meadows Museum Shop. (Click on the thumbnails for a description of each item.) For more information or to purchase, visit our Amazon site; alternatively please call 214.768.1695 or email the Museum Shop (museumshop@smu.edu). If ordering catalogues via e-mail, please be sure to include the title(s) in your message. DO NOT include credit card information, a shop representative will call you to obtain it.
---
In time for the Holidays!
El Greco of Toledo
Ed. By Fernando Marías
Publisher: Ediciones El Viso, 2014
978-84-941856-4-9
$75.00
Hardcover, 320 pages
Published to commemorate the 400th anniversary of El Greco's death and destined to become the dominant text on the artist! The is the catalog that accompanied the exhibition at the Museo de Santa Cruz in Toledo, Spain from March to June 2014. In addition to the works in the exhibition, this catalog also includes a comprehensive selection of masterpieces by the artist that will allow for greater knowledge and understanding of his oeuvre. With essays by Fernando Marías, Nicos Hadjinicolau, Richard L. Kagan and Joaquin Bérchez, this book will become the key reference on the artist.
---